Sexual Harassment Of Women & Student At Workplace
Prevention, Prohibition & Redresseal Act 2013
Committee Report 2018-2019
Aims
In the response to the Vishakha  Judgment passed by Supreme Court in 2013 . The University of  Pune set up the "University in the renal committee development cell" In 2014 with the key purpose of making the university A gender sensitive space.
The University also direct all its affiliated colleges to setup Internal Complaints Committee,
Objectives
1)To promote general well-being of female students and Teaching , Non-Teaching Women staff of college.
2) To create awareness about Health and Hygiene among girls students.
3) To create social awareness about the problems of  women in general and gender discrimination in particular by means of programmes  like lectures , workshops and seminars. 
4) To develop skill among the girl students by means of workshops and training programmers for their overall personality development as well as for the encouragement of self-reliazations among them. 
5) To create legal awareness among  the girls students by informing about Women Welfare Laws.
6) To encourage participation of NGOs working in the area of women's development in the activities of the Cell.
Functions
To prevent sexual Harassment , promote well deing of all female student & staff member and Create a gender sensitized community with in campus as well as in the society. 
According  to Supreme Court:-
Physical Contact and advances.

A demand or request for sexual favours.

Sexually coloured remarks.

Showing pornography.

Any other unwelcome physical , cerbal, or non-verbal conduct of sexual nature.
Ms. Pande S.C. ( Presiding officer)
Mr. Pachore M.V. (Faculty Member )
Mr. Trvbuvan A.P. (Faculty Member )
Mr. Gaikwad B.K. (Non-Teaching Employees)
Mr. Nagdekar S.M. (Non-Teaching Employees)
Miss. Kotme U. R. ( UG Student)
Smt. Patil N.G. ( Non-government organization Non faculty Member)
Mrs Rajshree Pingale delivered lecture on 'Women Harrassment' on 3 March 2019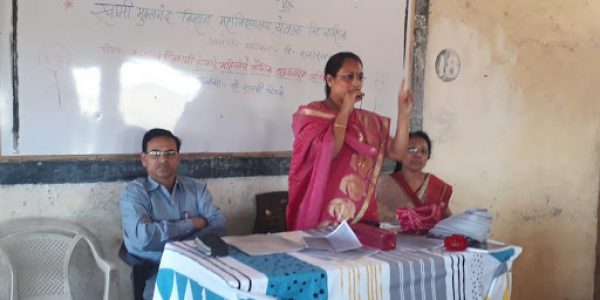 In the 3rd March 2019 , the internal Complaints committee organized an inspiring talk by Mrs. Rajshree Pingale, Faculty of "Atma Malik Sansthan, Kopargaon of it was a session that many of us wil remember for a long time Mrs. Pingale spoke from her heart about her experiences , the initial  denial, 'Why me' period (Which she later changed to try me) acceptance of the situation taking one step at a time and "Charging her battery" each minute in her own words.
She realized that own words  having a positive attitude was her only choice.
Under SWO, Nibhay Kanya Abhiyan was conducted for girls students.
1.Dr.Manisha Gosavi guided about health and hygiene.
2.Dr.Pratibha Jadhav guided about improvement in self confidence.
3.Mrs.Sushama Nagdekar delivered speech on 'Women rights and Laws'
4.Miss Maya Hadage guided about 'Women Harassment'
Sempai Nilofer Shaikh trained girls self defence.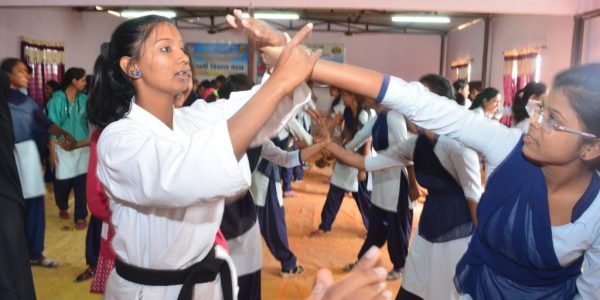 Dr.Pratibha Jadhav delivered motivational speech on self confidence.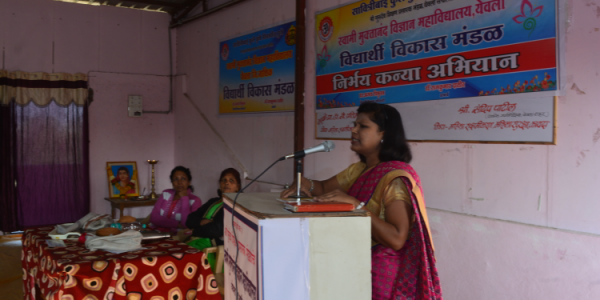 Mrs.Maya Hadage delivered speech on 'Woman Harrassment'.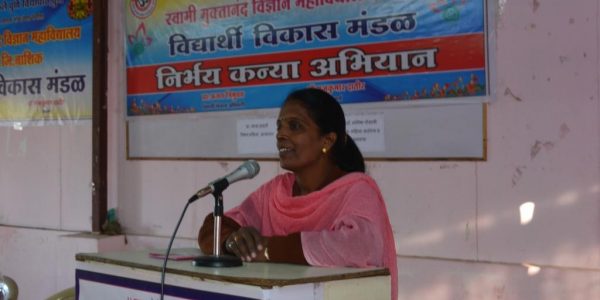 Dr.Manisha Gosavi guided about health and hygiene.